The chamber appears to select two groups of monsters from the below list of normal monsters. The number of monsters varies with the type chosen, and are always in groups of 6 or 12. Either two groups of monsters and a weaker boss or one group of monsters and a strong or weak boss will load.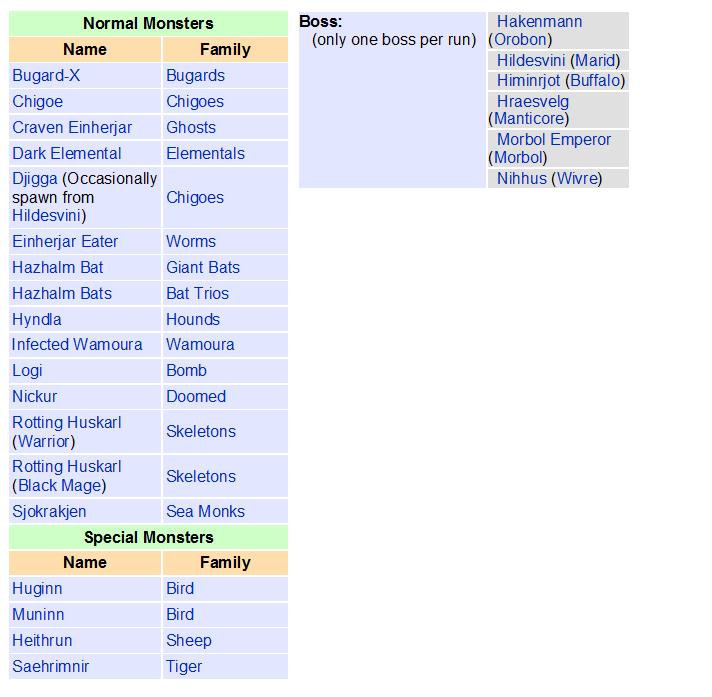 Huginn, Muninn, Heithrun or Saehrimnir will not be immediately seen. They will pop as you progress through the chamber's monsters. Muninn and Saehrimnir will leave behind a message stating "the chamber's stagnant aura has somewhat cleared" if defeated or left to depop respectively.
Huginn will leave behind an Armoury Crate containing various consumable items upon defeat.
Muninn will weaken the enemies upon defeat. A message stating "the creatures lurking in the shadows have calmed" will be received.
Heithrun is the rarest of the four and will double the items in treasure chest after defeating boss.
Saehrimnir will strengthen the enemies if left to despawn. A message stating "the creatures lurking in the shadows have become restless" will be received.
These four "Notorious Monsters" (especially Saehrimnir) may come by your alliance camp during pulls. If sighted, inform the designated puller immediately. They spawn and de-spawn at an extremely fast rate and must be taken care of immediately.
Grimgerde's Chamber Abj Drops
Dryadic Abjuration: Feet (???%)
Earthen Abjuration: Legs (???%)
Hadean Abjuration: Hands (???%)
Phantasmal Abjuration: Hands (???%)
Phantasmal Abjuration: Legs (???%)
Wyrmal Abjuration: Head (???%)
Neptunal Abjuration: Head (???%)
Last edited by Lecaud on Tue Nov 10, 2009 9:23 am; edited 2 times in total
Rossweisse's Chamber Abj Drops
Hadean Abjuration: Feet (???%)
Hadean Abjuration: Hands (???%)
Phantasmal Abjuration: Hands(???%)
Phantasmal Abjuration: Legs (???%)
Wyrmal Abjuration: Head (???%)
Earthen Abjuration: Legs (???%)
Neptunal Abjuration: Head (???%)
Neptunal Abjuration: Legs (???%)
Siegrune's Chamber Abj Drops
Phantasmal Abjuration: Hands (???%)
Earthen Abjuration: Legs (???%)
Neptunal Abjuration: Head (???%)
Neptunal Abjuration: Legs (???%)
Hadean Abjuration: Feet (???%)


Similar topics
---
Permissions in this forum:
You
cannot
reply to topics in this forum