Monsters Found Here
Notes:
Monsters of the same grouping link as they would outside of Einherjar.
Up to 2 types of monsters will be up upon entry into this specific wing. After those two families have been killed another family and the boss will spawn.
There is a total of up to 3 waves and 1 boss during each reservation.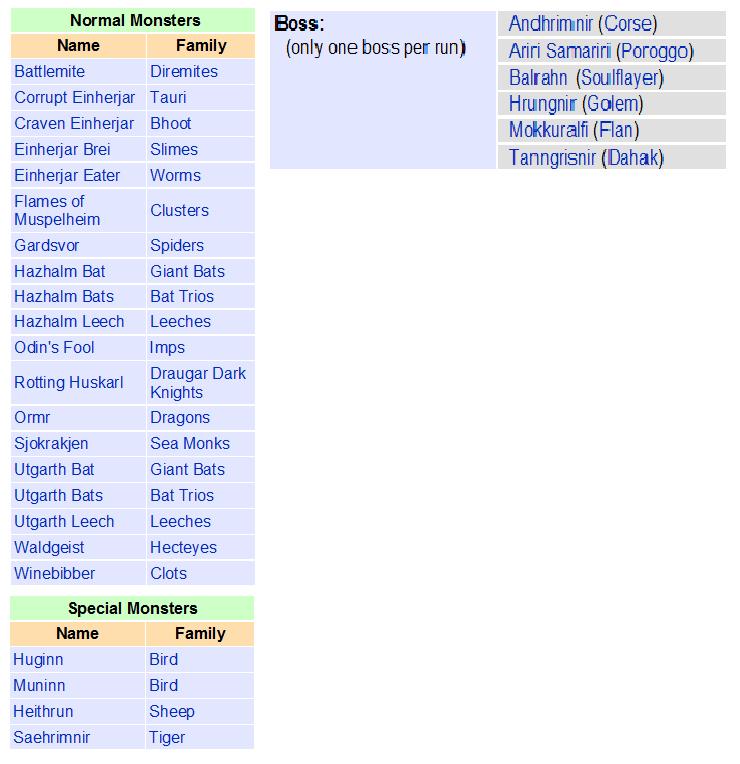 Huginn, Muninn, Heithrun or Saehrimnir will not be immediately seen. They will pop as you progress through the chamber's monsters. Muninn and Saehrimnir will leave behind a message stating "the chamber's stagnant aura has somewhat cleared" if defeated or left to depop respectively.
Huginn will leave behind an Armoury Crate containing various consumable items upon defeat.
Muninn will weaken the enemies upon defeat. A message stating "the creatures lurking in the shadows have calmed" will be received.
Heithrun is the rarest of the four and will double the items in treasure chest after defeating boss.
Saehrimnir will strengthen the enemies if left to despawn. A message stating "the creatures lurking in the shadows have become restless" will be received.
These four "Notorious Monsters" (especially Saehrimnir) may come by your alliance camp during pulls. If sighted, inform the designated puller immediately. They spawn and de-spawn at an extremely fast rate and must be taken care of immediately.
Helmwige's Chamber Abj Drops

Earthen Abjuration: Hands (???%)
Hadean Abjuration: Head (???%)
Neptunal Abjuration: Legs (???%)
Hadean Abjuration: Hands (???%)
Aquarian Abjuration: Feet (???%)
Wyrmal Abjuration: Head (???%)
Phantasmal Abjuration: Head (???%
Schwertleite's Chamber Abj Drops

Neptunal Abjuration: Legs (Ariri Samariri, Balrahn) (???%)
Phantasmal Abjuration: Head (Andhrimnir) (???%)
Hadean Abjuration: Head (Ariri Samariri, Balrahn) (???%)
Martial Abjuration: Legs (Andhrimnir) (???%)
Wyrmal Abjuration: Head (Mokkuralfi) (???%)
Waltraute's Chamber Abj Drops

Wyrmal Abjuration: Head
Martial Abjuration: Legs
Hadean Abjuration: Head
Aquarian Abjuration: Feet
Earthen Abjuration: Hands
Neptunal Abjuration: Legs


Similar topics
---
Permissions in this forum:
You
cannot
reply to topics in this forum